Whither paper?
Covid-19 might finally deliver on the promise of a paperless office.
Welcome to Plugging the Gap (my email newsletter mainly about Covid-19 and its economics). My goal is for several posts a week explaining economic research and the economic approach to understanding the pandemic. (In case you don't know me, I'm an economist and professor at the University of Toronto. I have written lots of books including most recently on Covid-19. You can follow me on twitter (@joshgans) or subscribe to this email newsletter at the link below).
---
Today's post is about something that was long-overdue but might finally change as a result of Covid-19: the paperless office. As we have all moved out of offices and home, we may have ordered webcams and comfortable chairs but did we order new printers? Actually, we did somewhat but not by much. Looking at the long-term, I hypothesis here that paper in the office or school may be dealt a final death blow.
Let me begin with a personal story. I can't call it moving or inspiring but it is illustrative.
A couple of years ago I went on a work trip to Europe. Upon returning I went by our new Vice-Dean's office. I handed him a large amount of paper clipped together.
"What's this?" he asked, "another book?"
"No, that's my expense report from my recent trip."
He flicked through it. I handed him another wad of paper.
"That was just volume 1. Here is volume 2. The clip wasn't big enough."
To those outside of a University situation, this might seem rather odd. I mean aren't most receipts digital? Don't you have credit card statements? Why would the Vice-Dean want a paper copy and how could it be that many pages anyway? As I said, you haven't been in a University. The expense report must be written and supporting documentation, even if the original receipt was via email, has to be printed and tabulated and signed and notarised. The Vice-Dean is the notary and I'm sure he enjoyed the few hours he spent on my case file.
When I was a department head, I used to have annual projects to try and improve the lot of people who worked in my department. One year I decided to take on the accounting department (not the academics, the real ones). This whole paper using system was ridiculous and there were plenty of good ways of going digital and we should do that. I decided to just move to a new system and impose it using the sheer power of reason to engender organisational change. The result was all-out war involving strikes, refusals to deal, refusals to reimburse, a surprising skirmish about paste (don't ask) and a year of pain for both sides. I don't blame those soldiers from accounts, they were just following orders. Indeed, I can only imagine the pain of a job whose main function is to continually explain to me and my ilk why we couldn't do what sensible people would do. Eventually, I won what were surely some very small concessions in the scheme of things (mostly related to paste) and that was that. But the main thing I couldn't change was paper. Everything had to be submitted on paper, forevermore, no exceptions. There was no other way.
Until May of this year. Imagine, therefore, my surprise when I was asked to log in to some service, extract my University credit card statement and submit it and all of my receipts via email. I explained that I had my credit card statement which was the only bit of mail I had received at the office and it was on paper. I was told that the paper statement would not be acceptable. I had to get a digital statement. Everything had to be electronic.
Well, isn't that interesting? After years of masses of paper costs, storing that paper who knows where and an epic battle, apparently, we didn't need paper and could still somehow function without it.
And then I reflected upon how little paper I had seen for the last few months. Very little. No exams. No printed syllabus. No one was complaining about not having access to the library. Paper had disappeared from my life. I suspect that I am not alone.
The Demand for Paper
We know that Covid-19 had a particular impact on the demand for some paper products. Namely, if toilet paper manufacturers ever doubted their value in society, the rush to stock up on rolls back in March would surely have brought a smile to their faces.
What I am interested in, however, is what Covid-19 has done to the demand for paper that we use to store information? Let's look at Google data to see what there is in terms of search trends.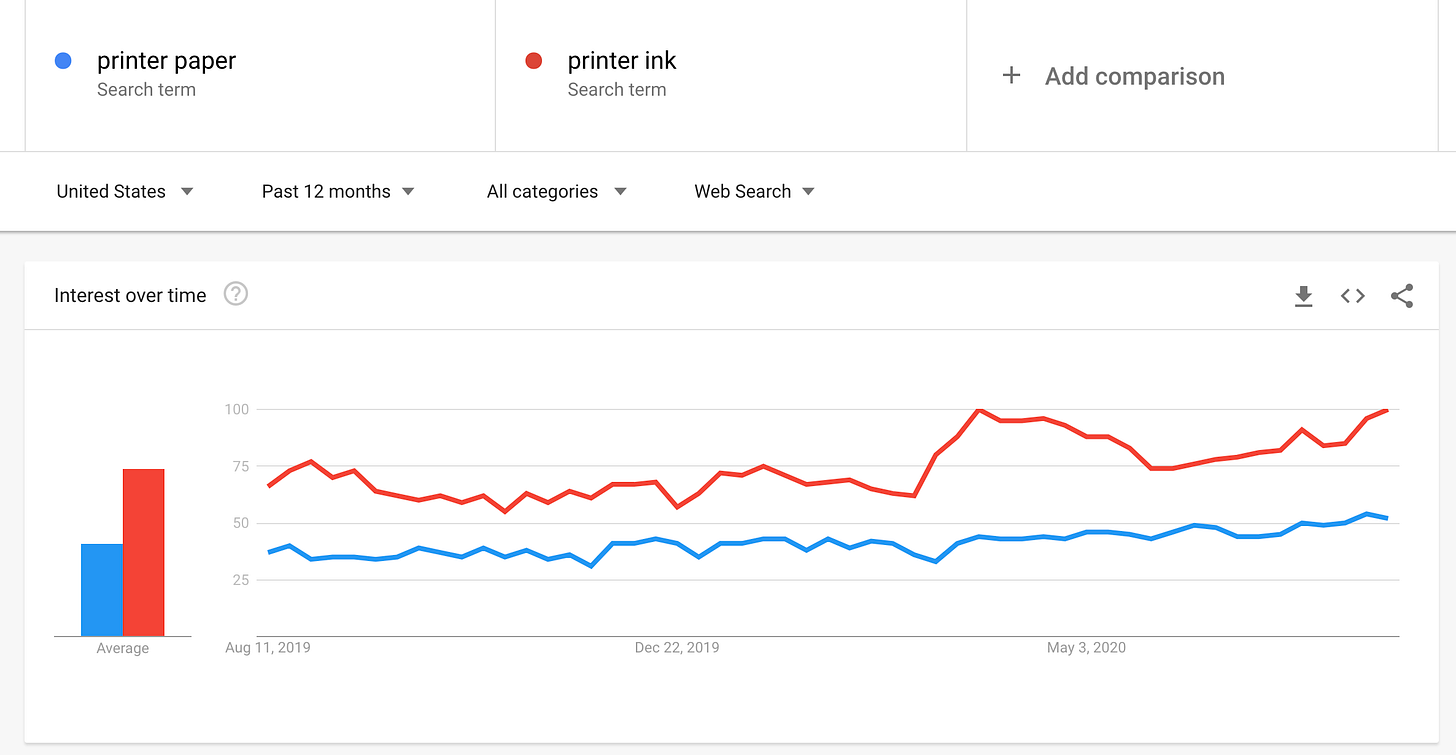 You can see that when the lockdowns began in March there was a spike in searches for printer ink and if you squint, a slight uptick for printer paper. For printer paper, this is a small blip in what has been a long-term decline. But what this data does not reflect is the use of paper in offices and workplaces.
A McKinsey report from 2019 shows that the demand for graphic paper (that is, the paper used for read'n), while declining, has held up pretty well throughout the Internet era.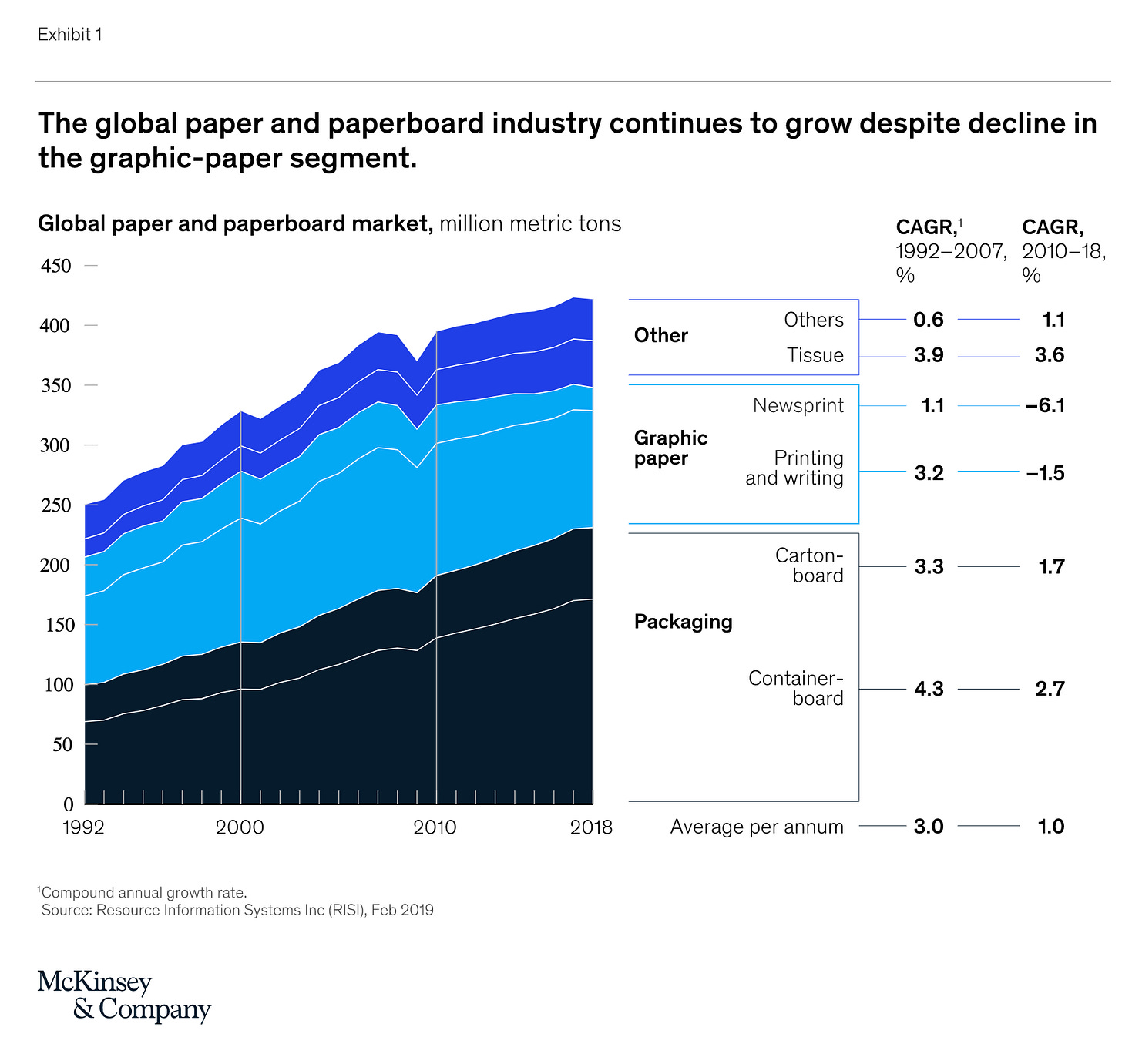 Thus, we are left with some interesting facts. First, paper use, most likely in offices and businesses, has been surprisingly resilient throughout the digitisation era. Second, when Covid-19 hit and people could no longer use paper at the office, they do not seem to have substituted towards paper at home. Other related uses like paper flyers and marketing materials have been similarly hit (in case you were wondering why the US Post Office is in trouble).
Paper, Post-Covid
The surprising thing, to me at least, about paper is that we have continued to use it so intensively to store and pass around information. Now, some of the mystery is taken away by my expense report story but, even so, someone was writing the checks to the paper company for those so at some level this was seen as useful for something; even if I don't know what that is.
Things are changing. People are now learning to work without paper. If they need the stuff on paper, they are likely finding other ways of getting that. Just the other day, I got a notice from another Vice-Dean telling us that we would not be able to ask students for paper copies of assignments, etc., in the fall. It all had to be online as "it will not be possible for students to pick up graded assignments from the registrar's office or from individual offices." For those who liked to grade paper, they would have to print out all of the assignments, grade them, scan them back in and upload them. You can hear the death knell crumpling sound of paper tossed in the bin.
As has been a theme here, I think that the end of paper is potentially another consequence of the 'forced' experimentation that Covid-19 has imposed. Previously, moving away from paper processes was too hard. People did like their paper copies. After all, how many meetings have you been to where someone printed out a PowerPoint presentation. A PowerPoint presentation! I bet Microsoft debated whether a print button was needed there at all only to find it was one of the most used. But paper is costly and screens have improved. And think of the trees!
So are the trees safe?
No. No, they are not. While the demand for paper may plummet, the demand for wood pulp products is another matter. At the moment, Covid-19 has caused an explosion in online shopping and, the last time I looked, most of that stuff is delivered in cardboard boxes. Those things do grow on trees.
Will the Empire Strike Back?
When the offices reopen will paper make a comeback. Some is inevitable I guess. But what about our accounts department? Sigh. I should not be optimistic but next time around I'll have even more moral authority on my side. So there's that.
---
What did I miss?
---
Where to find me